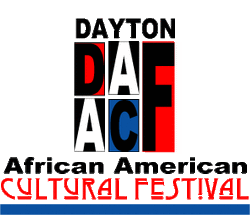 Saturday, August 25th, 2012 - Dayton Riverscape MetroPark; 11:00 am - 8:00 pm
and
Sunday. August 26th, 2012

-

McIntosh Park

,
Riverview St. at Edwin C. Moses Blvd

;

12:00 pm - 5:00 pm
The Annual Dayton African American Cultural Festival is a two-day, city-wide family event to bring the richness of the African American experience to the Dayton and surrounding communities in the areas of culture (African Village, Drumming, Story Telling); arts (pavilion of paintings, visual displays, authors and literature); education (Job Center, Dayton High School Alumni Directories); music (Live R&B, Gospel, Hip Hop, Jazz, Blues performances). There will be health care (screenings), merchandise and food vendors. Diverse people will be brought together in celebration.
Music
Live Bands
Educational Lectures
Art and More!